Style Tips
California Hair
Colour
The sun-kissed California blonde hair colour is really popular at the moment,
but a great blonde is tricky to get right,so you should seek professional advice before you change your colour,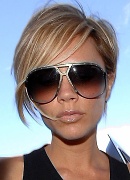 If you're dark-haired,like Victoria Beckham, you'll have to lighten your base with bleach or a tint before adding blonde shades. An underlying caramel tone will soften the look.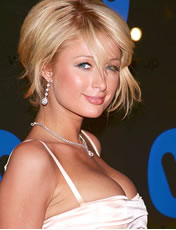 if like Paris Hilton, you have naturally light hair, then go for about six different shades,including one close to your own colour,working towards a creamy blonde.

Style
Don't use curling irons-they make curls too perfect.
Blow-dry hair until it's only slightly damp, then apply a curl enhancer. Wrap the end of a section around a round brush and turn the handle as you dry. Once you've done the whole head,shake out the curls.
Pull out sections and spritz with finishing spray for a polished but natural look.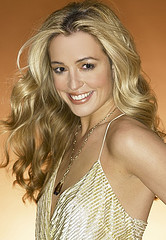 Top 5 tips
1, If you want volume at the root, simply lift the hair from the roots as you dry with a round or paddle brush.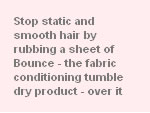 2, For volume and hold use hairspray and your hairdryer at the same time.
3, To give fine, curly hair some oomph, try drying your hair using a diffuser and then throwing your hair upside down, whilst scrunching some Schwarzkopf OSiS Loopy Curl Cream into the hair. This activates the curls and helps them keep their shape for longer.
4, A simple way to stop static and smooth flyaway hair is to lightly rub a sheet of Bounce (yes, the fabric-conditioning tumble-dryer sheet) over it,
5, A simple way to stop static and smooth flyaway hair is to lightly rub a sheet of Bounce (yes, the fabric-conditioning tumble-dryer sheet) over it,